I'm sure I could fill up pages and pages of how God worked this summer! He is so good. It was hard to find energy sometimes, but in the times when I found myself exhausted, I asked God for strength and surrendered my plans to him. I remember feeling completely exhausted the second to last Thursday night of the summer. It was right before worship time, which lead into Journeys. All of the counselors met during worship time to pray and seek God's will for Journeys, and the prayers that a few of the counselors prayed helped me redirect my focus away from my tired body back to God, where it should be.
Afterward, when we had gone back to our seats and everyone stood singing "How He Loves" I prayed, "God, please let tonight be all about you. Work through me. It's gonna have to be all You tonight because I have nothing left to give. Help me stay focused on You alone, and let the words I speak be straight from You. I pray that what the campers hear at Journeys would impact and change their lives. In Jesus' Name, Amen." And God answered my prayer, granting me the strength I needed and helping me stay focused on Him.
Now let me explain Journeys in greater depth. Journeys happened every Thursday night over the seven weeks of camp and it was a sort of "journey" that each cabin went on together from station to station. Each station was based on a part of Luke 9:23, which was the theme verse for this summer. We started at the basketball court, where the kids were asked to answer the questions, "What does it mean to be a disciple of Christ?" and "How do we follow him and help others to follow Him?" After they finished writing down their answers, the cabin would walk over to the chapel.
Once they got to the chapel, the counselors picked up index cards that were sitting out and handed them out to the campers, who were asked to answer these questions: What parts of my life do I need to deny and give to Christ? What does it mean to deny yourself for Christ? What part of our lives do we keep hidden from God? Campers and staff alike spent time listening for God's voice and praying to Him as they thought about the questions and searched their hearts.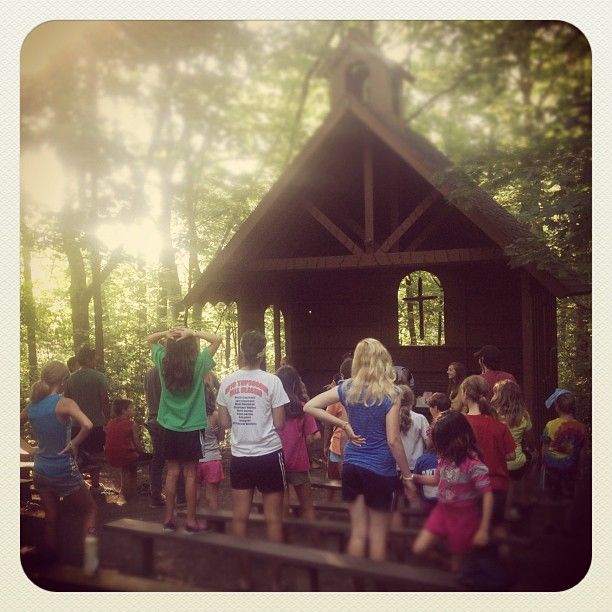 the chapel
From there, each cabin walked over to the poolside fire, where counselors shared the significance of the cross and explained why Christ died for us. Then the counselor would tell the campers that they were to put their index cards on the cross, which represented giving up our lives and taking up our cross. It was nothing less than surrendering our wills to God. When the counselor finished explaining, the campers took their index cards to a wooden cross that was set up near the fire and used push pins to put their cards on it.
The final station on the journey was the main campfire, where counselors would find a quiet spot to sit with their cabins to share their testimonies and how they follow after Christ. It was a time when the truth came out, broken lives were laid bare, and people were painfully honest with one another in order for God's love and healing to be known. The point wasn't to focus on ourselves and what we've accomplished. Instead, we shared our stories so that God would be glorified and so that people would be able to see God's faithfulness to us. After counselors shared our stories, we welcomed campers to share their own testimonies and offered to answer questions, too.
Journeys taught me a lot about relying on God for strength. When I'm at my weakest, God's power is made perfect in me, and that was shown as I poured out my heart to the precious girls in my cabin. Although my body and mind were weary from the busyness of the week, God gave me the strength I needed to make it through Journeys without thinking about sleep even once. I hope and pray that Journeys had a huge life-changing impact on every camper and counselor who participated in it, just like it did for me. As Paul said in Philippians 4:13, "For I can do everything through Christ, who gives me strength."
Love in Christ,
Jess